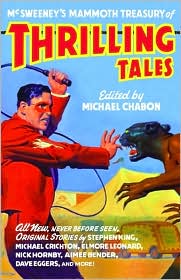 McSweeney's THRILLING TALES is an issue of their periodical that transcended its bounds, and now lives as a stand-alone book. The conceit posited in an entertaining foreword by Michael Chabon is this: since the province of the literary short story has been ceded to the wistful evocative slice-of-life rumination for so long, a return to the pulpy tales of yore should be a chance for authors to explore and stretch themselves.
I'm not sure of his thesis - Stephen King has cranked out heaps of stories, for instance, most of which are better than what he's included here - but there are a number of good-to-great stories. Nick Hornby, Glen David Gold, Michael Moorcock, Michael Crichton (really!), and Dave Eggers (the latter in a story I've read elsewhere) all make solid contributions, as do less familiar-to-me authors Chris Offutt, Karen Joy Fowler, Laurie King, and Carol Emshwiller
But there are also a number of just hard-to-read frustrations, full of desperate attempts to cram in archaic or invented terms, or just poor marriages of style and content. Having read everything, I would say, by and large, that I could have decided within 5 pages of every story if it was worth continuing.
Still and all, I recommend it, for a smattering helping of awesome.
This collection is more encyclopedic in its medium - kind of. Brunetti has gathered many of the great names of cartooning, graphic noveling (?), and plenty of folks I've never heard of. If names like Art Spiegelman, Joe Matt, Chris Ware, Dan Clowes, Charles Burns, Jaime Hernandez, Chester Brown, R. Crumb, Adrian Tomine, Joe Sacco, and Seth (to name just a few examples) are vaguely familiar to you, here's great samplings of their work; included, also, are a smattering of older cartoons, including the astonishingly artful Krazy Kat pages, which I'd never seen before, and several pages devoted to Charles Schulz.
Then, there's the completely unfamiliar authors. Richard McGuire's piece "Here" is a free-association through time of the contents of a room, sad and beautiful; David Collier's "The Ethel Catherwood Story" is a simple piece of reportage that has stuck with me far longer than I anticipated; and John Hankiewicz takes some of the prosaic stylings of Adrian Tomine and hyper-intellectualizes them in "A Paragraph By Saul Bellow (1915-2005)" in a way that instantly pegged him as a kindred spirit. Just a few examples; there are dozens, and I could read this book every year and find something different that struck me.
The book is organized non-chronologically, but roughly from primitive doodling styles to the more complicated, according to the author. The other organizing principle - the complete absence of any superheroes or superheroic-type things. I find this a slightly troubling omission, especially as it remains unaddressed in the preface - it's like a conceptual donut, designed to omit a central idea without calling attention to its absence. This minor frustration aside, though, a swell compendium for anyone who ever had the slightest interest in, um, "graphic fiction".