Dunedin, NZ
10 Jan, 11:25 AM
np: COMPLETE STAX/VOLT SINGLES, Vol.9
So on Tuesday, I was faced with a difficult decision. My favorite new band of 2008,
The Dodos
, were coming to New Zealand, and arriving in Christchurch on Thursday.
Problem: Christchurch is a five hour drive from Dunedin. As I'm working Sun-Thu at the moment, that wasn't an issue, but getting there in time, doing that much driving, et cetera was all worrying. Plus, three different friends from Auckland were coming into Dunedin Friday night, so I couldn't even make a weekend of it - rush up, rush back.
I asked Alastair whether it was more awesome to go or stay and do writing, and he pointed out clearly it was much more awesome to go see a band you've been obsessed about all year instead of wishing you had gone.
So I went. The show was fantastic; I may write about it more in detail at some point, but I urge anyone reading this in Auckland to see them tonight at Kings Arms or (better option) tomorrow night at Leigh Sawmill. A few notes about the rest of the trip, with attendant photos
here
:
* On the drive up, there were some amazing clouds, which I took photographs of. Apparently the cloud formations are unique to the Canterbury region. Really? Wow.
* I stayed in
jail
, which seemed like the most awesome option. It was okay; friendly people and comfy beds, a bit noisy and not enough parking. In general, I'm pretty indifferent to lodging, so I'm fairly confident it was the most awesome outcome.
* On recommendations, I ate dinner at
Dux de Lux
, which was ... pretty good. It doesn't quite get an awesome, but I may have ordered the wrong thing. Trying alcoholic ginger beer was interesting; I expected it to taste like the non-alcoholic version (like a sweeter ginger ale, for Americans reading this), but in fact it was like a normal beer, only ginger flavored.
* The venue, Al's Bar (website currently mucked up, apparently) was really awesome, spacious, friendly barstaff, generally recommended.
* I took a bunch of pictures during the show as well. I was nervous about this, as I've never really done gig photography before, and didn't want to have it impede my enjoyment of the show, but I did want to take pictures for an article I'm working on (plus, you know, playing with the new toy). As it worked out, the opening band was The Ruby Suns, who I'm not a big fan of, so it was a good chance to take some pictures and figure out a few things without impeding my enjoyment. I didn't intend to take pictures during the Dodos, despite securing a frontal position in advance, but found myself wanting to do so, really enjoying it, and getting some photos I'm really happy with.
* The next morning, after effecting my jailbreak, had breakfast at
Honeypot Cafe
, which was much more friendly than the reviews at that link give it credit for, and got the biggest plate of bangers and mash I've ever seen.
* Then I did some music shopping at Christchurch's
Real Groovy
and
Galaxy Records
. Picked up a couple things for an awesome soundtrack for a ride home: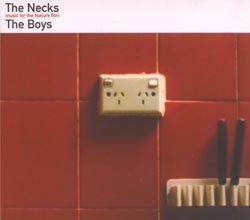 ... as well as DVDs of Einsturzende Neubauten and Pierre Henry.
* Also stopped in
Alice in Videoland
, which is a very cool video store, though mostly focused on rental.
* Had a quick jaunt through the
Christchurch Art Gallery
, where last time through I was fortunate enough to see a Giacometti exhibition. Nothing so awesome this time, though I was taken by the drawings and sculptures of
Zina Swanson
, who seems to share some of my obsessions of the intersection of the natural and manmade in a way that resonates with me. (None of those drawings are as awesome as the ones on display; that's probably why those are for sale instead of on display.)
* On the way home, dropped into Christchurch's
Dress Smart
and stumbled into the only
Merrell
outlet in the country. I think everybody in my family wears them, but I'd always been skeptical, and also not somebody to spend much money on shoes. But outlet prices! And they're in my size! Bought two pairs and retired my long-suffering current pair of shoes; if I'm not mistaken, my parents got them as a birthday gift for me in 2006. Suddenly feels like I'm walking on air.
* Stopped at a giant salmon, which was used as a cover for Gate's LOUNGE and thus topical to the article I'm working on, and in addition to getting pictures of that experimented with fast shutter speed photography.
* Stopped at a farm and got some fresh berries. They weren't as tasty as the berries I had the other day, but pleasant enough.
* Also popped into my favorite cheesery in the world,
Whitestone
in Oamaru, and picked up a hunk of their awesome Windsor Blue. I'm a huge fan of their Island Stream, which hasn't been on the shelf for years now; I found out that they have another batch in production that should be available shortly, although how widespread it is will depend on the amount of sheep's milk they can procure. Regardless: I see a road trip for cheese to Oamaru next month in order to take advantage of this (awesome) news.
* And got back in time to spend a great evening with Brendan, Luke and Tabitha (my Auckland friends); randomly wound up in a bar with a bunch of NHNZ people, so everyone got to meet everyone else. A great night.
I'm reasonably confident that even the greatest scientists couldn't have fit more awesome into the previous day and a half. Today, had a great breakfast with Luke and Tabi, and have a scuba re-certification, jam, and either a show out in Port Chalmers or more writing to look forward to. We'll see which one seems more awesome as the time approaches.